Stainless steel wire mesh
Zhongben Wire mesh products: Stainless steel wire mesh can be divided into stainless steel wire mesh square opening and stainless steel wire mesh Dutch weave according to weaving types, while square opening stainless steel wire mesh can be further divided into square wire mesh plain weave and square wire mesh twill weave.
Stainless steel wire mesh square opening usually refers to woven stainless steel wire mesh, in plain weave or twill weave patterns.
Standard mesh counts per inch for stainless steel wire mesh with square opening:
2 mesh / 3 mesh / 4mesh / 7 mesh/ 10 mesh/ 12 mesh / 16 mesh / 18 mesh / 20 mesh / 24 mesh/
30 mesh/ 35 mesh/ 40 mesh/ 50 mesh/ 60 mesh/ 70 mesh/ 80 mesh/ 90 mesh/ 100 mesh/
120 mesh/ 150 mesh/ 180 mesh/ 200 mesh/ 250 mesh/ 300 mesh/ 325 mesh/ 350 mesh/
400 mesh/ 450 mesh/ 500 mesh
Technical Note:
Standard width of stainless steel wire mesh: 1m or 48"
Stainless steel wire mesh with extra roll width of 4 m also available.
Standard roll length of stainless steel wire mesh: 30m or 100'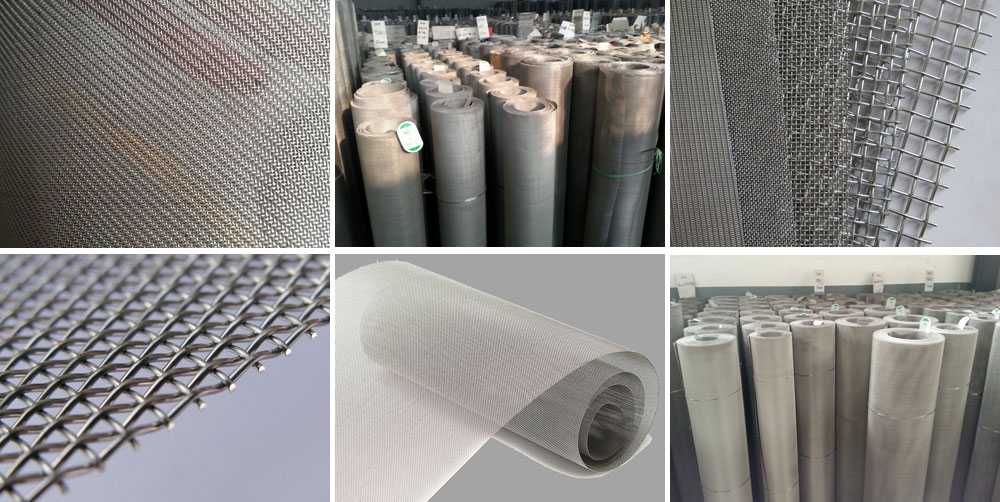 Plain Weave Description:
Plain Weave is a kind of commonly used weaving method. The warp wire that establish the length of the wire mesh and the weft wire, parallel to the width, cross one another, alternating one on the top of and one under, forming a 90° angle between each other.
Solid woven wire mesh may have a square or rectangular opening
Plain Woven Wire Mesh Clothes are basic components in the production of filters, colanders for aliments, chemicals products, shielding, mosquito nets, etc.
Wire Materials:
Stainless steel wire: AISI 304, 304L, 316, 316L, 310, 314, 410, 430
Special steel: Cromax, Incoloy, Alloy Ni-Cr, Inconel, Nichel, Monel, titanium, Duplex.
Woven Wire Mesh is also available with carbon steel, Low carbon steel, galvanized steel, brass, bronze, copper, aluminum alloy, etc.
Tabby Plain Weave Wire Mesh Product Features:
Stainless Steel Wire Mesh Plain woven offers high filtering effciency, low pressure loss, constant mesh opening, good dimensional stability, high open surface area and good fireproof property.
Product Description
Our Stainless Steel Wire Mesh have excellent resistant against acid, alkali, heat and corrosion, exstensive uses in processing of oils, chemicals, food,pharmaceuticals, also sorting and sorting and screening of soild, liquid and gas in mine, metallurgy, air space, machine making etc.
1.Material: stainless steel wire AISI 304 , 304L, 316, 316L, 310, etc
2.Wire Dia: 0.02--2.0mm
3.Mesh: 1---635mesh
4.Aperture(micron): 25--500µm
5.Weave pattern: Plain weave, Dutch weave, Twill weave etc
Quality Control
Certified with ISO 9001:2008
High-end produce with good quality, excellent in workmanship, best service
All of the product are inspected carefully by QC before delivery
Package and Shipping
● Water-proof paper inside, outside with bubble wrap
● Plywood case
● Special packing can customized
Delivery Time
● Common size we have stock, can delivery within 5 days
● Special size depend on the quantity
Min. Order
● Stock goods, 1 roll is ok
● Customized size 5-10rolls
Payment terms: T/T 30% deposit, balance be paid after see B/Lcopy
Trade terms: EXW or FOB Tianjin